No matter which you are, a new pool owner or a pool connoisseur who looking for refresher content, even you are a great manager for swimming pool. As we all know, every swimming pool need a pool filtration system, but how does it work? This is the most important thing.
In fact, all basic swimming pool systems are the same. During normal operation, water is pumped from the pool using suction generated by the pool pump. Water is drawn into the pump from the main drain and the skimmer. The pool pump generates pressure, circulating water through a pool filter, heater, chlorinator or other equipment and then returning to the pool.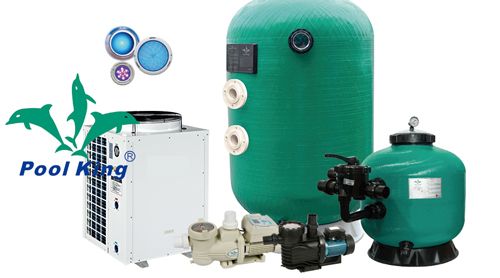 Pool Equipment
Pool Pump: Powering the flow of water during water circulation.
Pool filter: Filtering the swimming pool water to keep it clean and clear.
Salt Chlorinator: Hydrolyzed sodium chloride to produce chloride ions which sterilize the pool water.
Chemical Feeder: Adding trichloro, bromine and other disinfecting chemicals to the pool water
Heater: Using gas or electric to heat the water and maintain the water temperature.
Heat Pump: Uses heat from surrounding air to regulate & maintain desired water temperature.
Valve: Diverts water on suction or return side of pool system.
Drain: Suction point on bottom or side of pool supplying water to the pump.
Skimmer: Suction point on pool surface supplying water to the pump. Separating some larger garbage from the water.
Return: Circulating water returns to the point in the pool.