As an experienced pool filter manufacturers and pool equipment suppliers, we should tell you that a great pool filtration system could keep your swimming pool clean, but you also need a lot of money to buy disinfectant, so someone thought maybe table salt can instead chlorine to become the disinfectant.
Traditional table salt is made-up of sodium and chlorine, an ionic compound that's bonded on a one to one level. So, every molecule contains one sodium ion and one chlorine ion. Water is a polar molecule, so while it is neither positively nor negatively charged, the shape of the molecule gives it a more positive side and a more negative end, each of which attracts its opposite out of the salt giving you aqueous Na+ and Cl-. Sounds like you have chlorinated water, right? Let's look at combined chlorine. They contain chlorine yet do not produce a sanitizing effect in the water. So the aqueous Cl- that you get from dissolving the salt in water is similar in the sense that the chlorine is not in a form where sanitation will take place.
By using this series of salt chlorine generators, just add table salt and can generate chlorine in the electrolyzer to keep the water clean, safe and hygienic.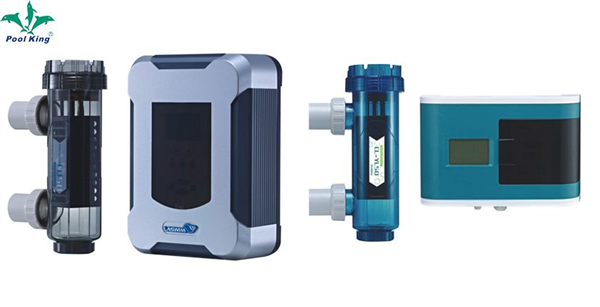 Chlorine generators feature:
1. Salt Chlorinator applied advanced micro-computer technology and customer oriented design, to provide the most energy saving and environmental friendly method to sanitize small and medium pools.
2. Chlorine output is adjustable from 20% to 100% by simply pressing two button, satisfying different needs for different pools.
3. Each time the chlorinator restarts, it can automatically initiate the last work status, with this smart memory function.
4. Different from those traditional disinfecting equipments, this salt chlorinator doesn't produce any disgusting smells. Discomfort like pinkeye or skin itch can be avoided as well.