If you are ready to splurge, head to the exclusive five-star St. Regis resort in Lhasa, Tibet. For $300 per night, you get jaw-dropping Himalayan views, along with access to one and only glittering gold-tiled pool. The water is salted and warmed up to a comforting 28-32 degrees Celsius. A cozy rest area is set nearby with foot massage and catering available. An absolutely exquisite experience for everyone with a thing for bling!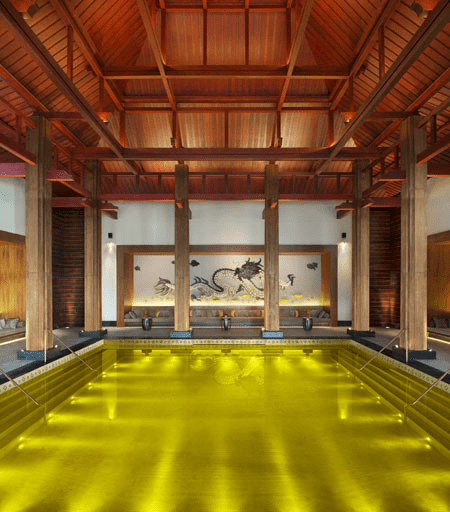 Standing on the "Roof of the World," The St. Regis Lhasa Resort offers refined luxury and superlative service in a storied city. Discover Potala Palace and Norbulingka, UNESCO World Heritage Sites, and Jokhang Temple, all minutes from our resort.
And the most exciting thing is swimming in a golden pool. the Gold Energy Pool at St. Regis in Tibet takes luxury to a whole new level. The temperature of the therapeutic salt water has been optimised to ensure it's perfect for the human body. Every single tile has been plated in 14 carat gold, which, perfect temperature aside, make this one fancy place to swim.
But a gorgeous swimming pool is not enough, it also need a great pool filtration system to keep the swimming pool clean and make sure you get the wonderful and unforgettable experience. POOLKING from China, GuangDong, which is one of the biggest pool filter manufacturers, so it can solve every problem about swimming pool.